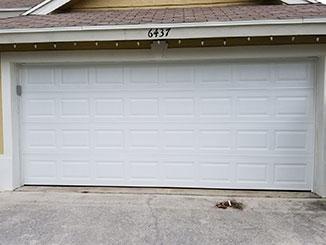 The old saying "an apple a day keeps the doctor away" could also be extended to automatic garage doors. Our professionals recommend that these systems door receive maintenance and tune-up sessions at least at least once every six to twelve months to minimize wear and tear and to prevent catastrophic failures. Our company provides a full preventative maintenance service as well as repair and replacement work.
What Happens To A Door?
Every time you open or close your garage door, you're placing a lot of mechanical stress on the system's moving parts, such as the tracks, springs and connector belts. Over time, this can lead to tracks bending, springs snapping, and opener motor components wearing themselves out. Rain, dew or rapidly changing temperatures can also cause rust or warping to set in among exposed metal components. Electrical wiring is also at risk of fraying and insulation of stripping which can lead to a power failure.
Fighting Wear And Tear
By checking your system for signs of scratching and bending, our team can find points of wear and tear and reverse the damage by realigning or straightening the components. If something has been worn down too badly, it might require replacement. Better to do that before it breaks mid-use rather than afterwards! We'll also put a fresh coat of oil on your springs, tracks and belts, to minimize further wear and tear until the next tune up.
Checking For Problems
Your wiring, opener, and other subsystems can also be a source of malfunction, whether mechanical, electrical or program related. With our team's breadth of experience, they've learned how to look for problems in all sorts of garage door systems and add-ons, and can be counted on to give you a thorough inspection no matter what kind of setup you have.
Call Us Today
Don't wait for a problem to take you by suprise. Call Garage Door Repair Los Altos today and help us schedule an appointment. Our team is available anywhere in city limits, seven days a week. Give us a ring!
Count on us when it comes to:

Torsion Spring Adjustment

Track Replacement & Repair

New Opener Remote Controls

Garage Door Opener Maintenance